Irvine Personal Injury Lawyer
Marcereau Law Group is a full-service personal injury law firm representing Californians injured in a car accident.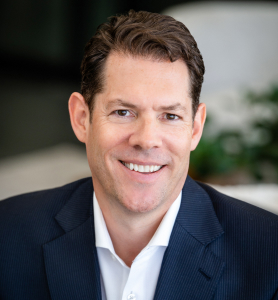 Injuries can change our lives in an instant. The physical, emotional, and financial impacts can be overwhelming, whether you're hit by a car, bitten by a dog, or injured at work. At the heart of Orange County is MLG Personal Injury & Accident Lawyers. Our firm is committed to defending the rights of injury victims. With deep roots in Irvine, our experienced attorneys are prepared to help you navigate the complex legal world.
Our Irvine personal injury lawyers have a tremendous amount of experience working with clients who have been involved in severe accidents. Our office's experienced personal injury attorney will listen to your case and help you pursue any compensation you deserve.
Learn more about how our personal injury attorneys in Irvine, CA, can help you recover damages for your serious injuries. Then, call us for a free consultation to review your possible personal injury claims.
Protect Your Rights With an Experienced Irvine Personal Injury Accident Attorney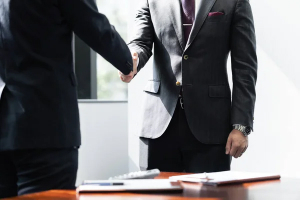 After an injury, knowing who to turn to can be confusing. An experienced attorney can be a beacon, guiding you through every step of the process. The right lawyer can make all the difference from evaluating your case to representing you in court.
Initial Consultation and Case Evaluation: Your journey starts with a detailed discussion about your accident. We'll determine the strength of your case and potential challenges and map out a path forward.
Investigation and Gathering Evidence: Facts win cases. Our team digs deep, collecting evidence, talking to witnesses, and ensuring every detail supports your claim.
Legal Representation and Negotiation: Insurance companies are tricky. But with our seasoned attorneys at your side, we'll push for a fair settlement, ensuring you get the compensation you deserve.
Trial Preparation and Courtroom Advocacy: We prepare rigorously if your case goes to trial. Our lawyers will represent you passionately in court, fighting for your rights every step of the way.
Post-Settlement Assistance and Support: The journey doesn't end with a settlement or verdict. We're here to help with any post-settlement challenges or questions, ensuring a smooth path to recovery.
Navigating a personal injury case can be daunting. But with MLG Personal Injury & Accident Lawyers, you have a dedicated partner every step of the way. With our experience, you can turn your attention to what really matters: healing and recovery. Allow us to deal with the insurance company and legal issues on your behalf. You deserve to focus on getting better. Give us a call today to speak to a member of our team.
Types of Personal Injury Cases in Orange County, CA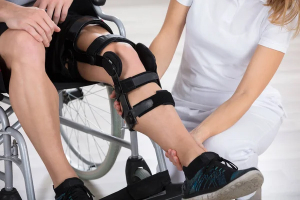 Every injury is unique, but some accidents are more common in Orange County. Understanding these types can help you gauge the nature and depth of your situation.
Car Accidents
Cars are everywhere in Orange County. Sadly, this means accidents are frequent. Speeding, distracted driving, and impaired driving often lead to severe injuries or even death. Car accidents usually take place when you least expect them. Be sure to keep your wits about you on the road, but do not hesitate to call us if you have been hurt in a motor vehicle accident.
Truck Accidents
Large trucks can cause devastating damage. Due to their size and weight, collisions often result in serious, life-altering injuries for those in smaller vehicles. Even a seemingly minor truck accident can result in serious injuries. If you have been involved in an accident with a truck, contact us for a consultation.
Brain Injury
Brain injuries can stem from falls, car crashes, or even sports. These injuries can be subtle or severe, impacting memory, motor skills, and emotional health. Brain injuries are not unusual to lead to complications that could last the rest of your life. Be sure to see a doctor as soon as possible.
Bicycle Accidents
Irvine's sunny weather draws many cyclists. But busy roads mean bike accidents can happen, leading to severe injuries, given the lack of protection a bike provides. Always wear a helmet to minimize the impact of any potential injuries, but do not hesitate to contact us if you have been injured in a bike accident.
Dog Bites
Dogs are man's best friend, but sometimes they bite. They can cause deep wounds, infections, and emotional trauma when they do. Even though many people own dogs, they are also responsible for the actions of their dogs.
Pedestrian Accidents
Walking should be safe. But sometimes, drivers don't see pedestrians, leading to traumatic accidents and severe injuries. Because there is no protection between the pedestrian and the road, even an accident that takes place at a low speed can lead to serious injuries.
Wrongful Death
The most tragic accidents result in the loss of life. When negligence causes a loved one's death, families deserve justice and compensation. Contact us to see if you have a wrongful death case.
Types of Irvine Personal Injuries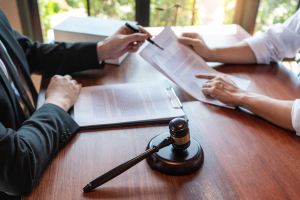 Accidents lead to various injuries. Each injury type brings its own challenges, affecting victims physically, emotionally, and financially.
Broken Bones: Simple fractures can heal, but complex breaks might need surgery. You might have a cast on for several weeks and have to go to physical therapy when it comes off.
Cuts and Bruises: While they seem minor, deep cuts can cause long-term issues. For example, there is a chance that some cuts could get infected.
Spinal Cord Injuries: These can lead to paralysis or chronic pain. It is not unheard of for a spinal cord injury to impact someone for the rest of their life.
Burns: From mild to severe, burns can cause scarring and require extensive treatment. Burns can also lead to chronic pain.
Traumatic Brain Injury: These affect mental functions and can be life-altering. It is not unusual for someone to suffer a head injury in a car accident.
Neck Injuries: Whiplash and other injuries can result in chronic pain. This is one of the most commonly suffered injuries in a motor vehicle collision.
Internal Bleeding: These hidden injuries can be fatal if not treated. This could result from a traumatic injury or even medical malpractice.
Ligament Damage: Often from sprains or strains, they can impact mobility. This is a serious injury that our accident lawyers have experience with.
No matter the injury type, timely medical attention is crucial. It helps with recovery and provides documentation for your case. The accident attorneys at our law firm would be happy to help you. Give us a call today to schedule a consultation.
Important Steps To Take After a Personal Injury Accident
If you've been injured, the first moments can be confusing. Yet, these initial moments are vital. After ensuring your immediate safety, document everything. Pictures, names, and notes can be invaluable later. See a doctor, even if you feel fine. Some injuries don't show up immediately.
Next, avoid discussing the accident with anyone except your lawyer, especially insurance companies. They might use your words against you later. Also, keep track of all of your costs. This includes your medical bills, lost wages, and property damage. These records support your claim.
Lastly, find a skilled personal injury attorney. With their guidance, navigate the complexities of the legal system, ensuring you get fair compensation. Many components work together when you are pursuing a personal injury claim, so give us a call to get the process started as soon as possible. We can help you obtain the compensation you deserve.
Proving Negligence in Personal Injury Cases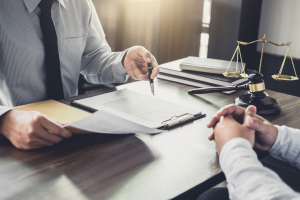 To win a personal injury case, proving negligence is vital. This involves four essential components.
Duty: Every person has a duty to act reasonably. For instance, drivers should obey traffic rules. Every driver has a duty of care to protect the other drivers on the road.
Breach: This duty is sometimes broken or "breached." For example, if someone texts while driving, they have breached that duty of care.
Cause: The breach should be the direct cause of your injury. This component is met if texting caused a crash and you got hurt. It is not enough for someone to simply breach the duty of care. It would help if you showed that the burden of care led to harm of some sort.
Damages: Finally, there must be actual damages, like medical expenses or lost pay, resulting from the injury. It would help if you showed that you have suffered financial damage somehow.
It can be challenging to prove all of the individual components of a personal injury case. That is why you need to contact a lawyer who can analyze your case and make sure the judge and jury understand your side of the story. If you would like to learn more about how we can help you, give us a call today to schedule a case consultation.
Statute of Limitations and Filing Deadlines
Time is crucial after an injury. California's statute of limitations for a personal injury claim is typically two years. This means you have two years from the injury date to file a lawsuit. You could lose your right to seek compensation if you miss this deadline.
Always talk with an attorney as soon as possible after an accident to ensure you're within this time frame. Even though it might sound like you have a long time, the years can go by quickly. The sooner you reach out to us, the easier it will be for us to control the narrative surrounding your case.
Compensation You Can Recover From Your Irvine Personal Injury Claim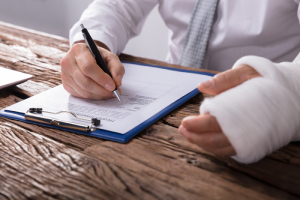 Victims have rights, and compensation is one of them. Understanding what's at stake would be best because it can help shape your legal strategy.
Economic Damages
Medical Expenses: We can help you pursue compensation to cover medical expenses.
Lost Wages: If you missed time from work because of your injuries, we may be able to seek compensation for your lost wages.
Property Damage: If you have suffered property damage, such as a car repair, we can pursue compensation to cover that damage.
Rehabilitation Costs: Sometimes, long-term therapy is required. This can be expensive, but we can seek compensation for long-term rehabilitation costs.
Future Earnings: Severe injuries might limit future earning potential. If you are unable to return to work, we can pursue compensation for the lost earnings.
Non-Economic Damages
Pain and Suffering: If you have chronic pain or physical distress, you can pursue compensation for it.
Emotional Distress: Accidents can lead to serious mental health issues, which we may be able to pursue compensation for.
Loss of Enjoyment: If you can no longer enjoy your favorite activities, we may be able to pursue compensation for that loss.
Punitive Damages
Not just about compensation; punitive damages punish the responsible party. These are rare and reserved for cases of extreme negligence or malicious intent. Their purpose is to deter such behavior in the future. We can review your case to see if it is deserving of punitive damages.
Contact Our Irvine Personal Injury Attorney at MLG Personal Injury & Accident Lawyers Today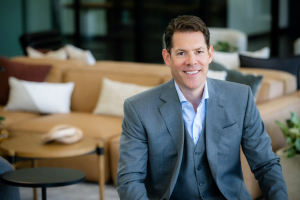 MLG Personal Injury & Accident Lawyers are here to help when accidents happen. Our seasoned attorneys understand the nuances of personal injury law in Orange County. With dedication and passion, we'll guide you every step of the way, fighting for the compensation you rightfully deserve.
Don't navigate this journey alone. With expertise, care, and a proven track record, our team is the partner you need. Contact us today. Let's get started on the path to justice and healing together.
Proven Track Record of Success
We Know What It Takes to Win
Settlement for an accident victim who was cut off by a car making a left-hand turn on PCH in Laguna Beach.
Settlement for a motorcycle accident victim who lost a testicle due to collision with a car who ran a red light.
Judgment for a motor vehicle accident victim in Santa Rosa
Settlement for a person injured in a head-on collision at an intersection in Los Angeles.
Settlement for a rear-end accident caused by a person who was texting and driving.
Settlement for the victim of a T-Bone accident in Laguna Beach.
Making A Difference in Our Clients' Lives
Committed to Providing a 5-Star Experience
"Rob was genuinely concerned about us and walked us through step by step what to expect."
"I would definitely recommend Rob to anyone in need of a personal injury lawyer."
"I am so glad I found these guys!! They were AMAZING to deal with."
"Rob was phenomenal - he was so easy to talk to and really made me and my family feel at ease."
"My family and I were really struggling after this accident but now we can finally breathe."